FAIR PLAY CALENDAR
Perpetual calendar for a Fair Play world: Fair Play is every day
The "perpetual calendar for a Fair Play world" offers 365 concrete examples reminding us that Fair Play is a value to be integrated into all aspects of life, from sport to education and citizenship.
This innovative calendar illustrates that we all have a role to play in changing the rules for a fairer sport and a fairer society. Each day of the calendar features a practical example accompanied by an illustration or a scannable QR code/link for further information.
Now it's your turn to play!
DOWNLOAD CALENDAR FROM HERE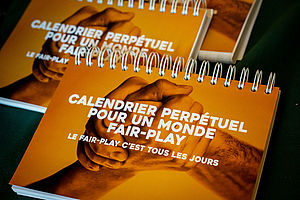 12.10.2023
---