2015 EFPM The Flame Award
The U11 Balkan Cup İnternational Football Tournament for the Balkan Countries took place on June 13-14, 2015, at Altinordu Facilitys in Kuşadası (TUR).
Korriko and Bursaspor (TUR) were facing each other in the semi-finals. With the Turkish team leading 1-0, Korriko was awarded a free-kick. The ball sailed beautifully right into the top corner, cancelling out Bursaspor's lead in the most fashionable way. No wonder that Korriko's players celebrated the goal. But they celebrated for a bit too long and did not pay attention to what was happening on the field. While the celebrations were still ongoing, Bursaspor took advantage of the empty goal and restored its lead. Then, something happened that should become an example for professional teams: Bursaspor decided to let Korriko equalize again, accepting that their goal was against the rules of Fair Play. They allowed a player from Korriko run towards the empty goal... but the player missed from 1 1/2 meters! No worries though, Bursaspor accepted a second attempt and this time there was no miss. Incredibly, Korriko won 3-2 in the end.
The Team of Bursaspor received the Fair Play Flame Award of the European Fair Play Movement. The target group for the EFPM 'Fair Play Flame' Award is young people up to the age of 18.
15.08.2017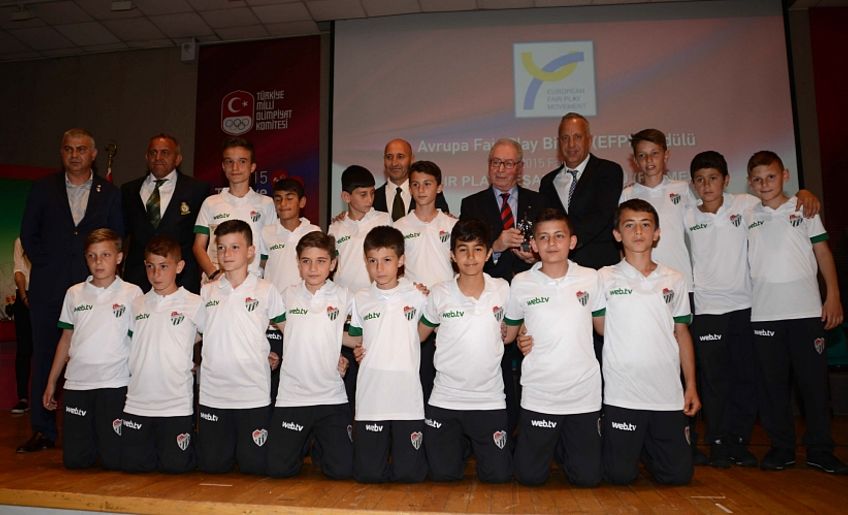 ---