2019 EFPM "SPIRIT OF FAIR PLAY" AWARD
At the Awards Ceremony of the "3rd World Fair Play Day", on 16 November 2019 the EFPM "Spirit of Fair Play" Award was presented to Barbara De Biagi (SNM).
The athlete of the San Marino Federation of Special Sports participated in the 100-metre race at the Spanish National Games held in Andorra. Barbara was in the qualifying event with a Spanish athlete who went into crisis and refused to take part. All attempts of the race volunteers to convince her to participate in the race were of no avail. Nobody seemed to understand her, except for Barbara: She came forward with enthusiasm and embraced the Spanish athlete, hugging her and talking in a very reassuring way. After a few minutes the Iberian girl calmed down and positioned herself on the starting line again. Both qualified for the final of the following day where Barbara won the gold medal. This was a beautiful and virtuous example of unselfishness by Barbara and her Coach Carinato, who were able to transmit to the athletes the importance of sportsmanlike behaviour inspired by the values of Fair Play.
 
She received the award from Ruggero Alcanterini, EFPM Honorary Member and Gian Battista Silvagni, President of the San Marino National Fair Play Committee.
18.11.2019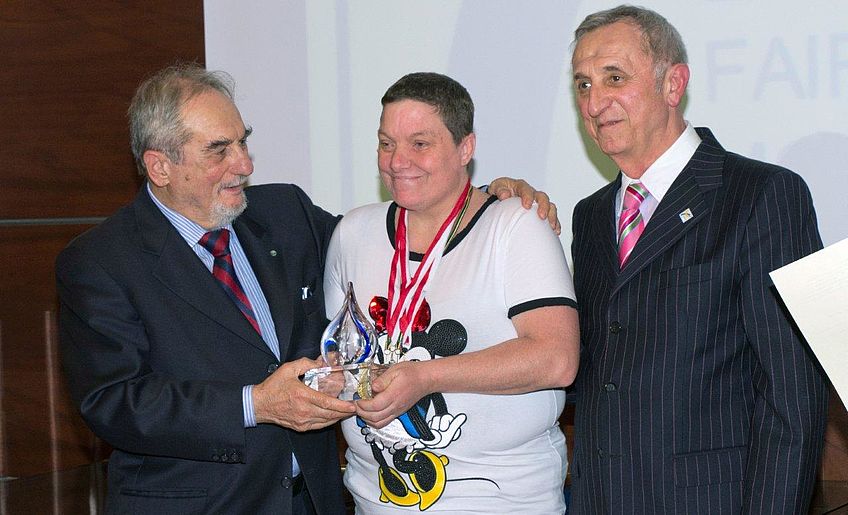 ---