The Ju-Jitsu European Union announced the Christian Blareau Fair Play Award
The JJEU Board had hereby the privilege and honour to award Christian Blareau Fair Play Award for excellence in Fair Play and Ethics in year 2018 to Lukas Bombik from Germany.
Lukas Bombik received an event given Fair Play Trophy at European Championship 2018, on June 3 2018. In one of the matches the opponent, Duez Wout from Belgium, was injured during the fight and in consequence, was forced to surrender the fight. Lukas was not blamed for the injury. After medical intervention Lukas helped and assist athlete, in need for assistance because of the injury, off the mat and even stayed a bit longer with him, showing compassion and interest of his wellbeing beyond expectations. Additionally, other observations from referees raised his overall sportsmanlike conduct during event.
His move and Fair Play conduct were recognized as the bests at the official events in 2018.
Award was given by Mr Christian Hinterberger, the President of the EFPM and Mr Robert Perc, the President of the JJEU, in presence of many officials from JJEU and FFJDA, friends of Mr Christian Blareau and referee team at the event (Mr Blareau was also a long time international referee).
28.05.2019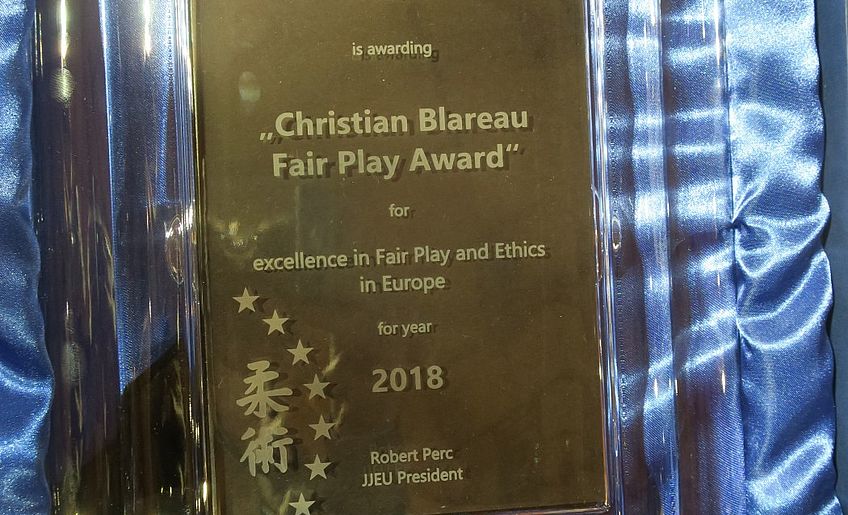 ---