Prof. Dr. Carlos Gonçalves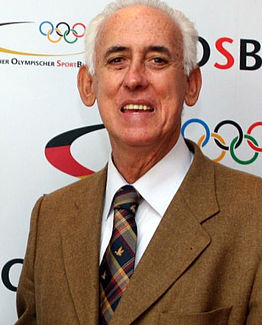 Carlos Gonçalves born on 1st Dec. 1939. He has completed a M.S. Ed. in Methodology of Physical Education (1967) and Ph D. in Sciences of Education (1998). He is a former athlete: he has been active international basketball player and national basketball coach.
For more than 40 years now, Carlos Gonçalves has embodied fair play education in Portugal and in Europe and has dedicated his time, passion and energy for the spreading of fair play and tolerance.
He has published several books and presented papers on teaching analysis, students' thoughts and PE teacher training, Youth Sport and Fair Play at international congresses since 1972. He was responsible for the Oeiras Fair Play Programme and for the research project on "Values in Youth Sport" contributing this way to the implementation of ethical values in sports and the education of youth in the spirit of Fair Play and Tolerance.
Carlos Gonçalves is founding member of the European Fair Play movement: he has served as Vice - President for seven years and as President for eleven years (2001-2012). Under his leadership the EFPM has benefited from important growth and recognition:
Growth in terms of number of national Fair Play organisations affiliated to EFPM, growth in terms of number of organisations and institutions with permanent contacts with the EFPM or, in some cases, specific "joint ventures" as well as the number of events to which EFPM has been invited to play an active role. Also during this period, EFPM gained recognition from the most prominent European governmental, non-governmental and inter-governmental sport and educational organisations and institutions. With the support of Carlos Gonçalves, EFPM has engaged cooperations with several European Sport Federations, involving them in the fulfillment of the EFPM's mission.
On September 2013 he got at the UNESCO Headquartes,in Paris, the Willi Daume World Fair Play Award, granted by Committee International Fair Play, taking into account his long serving in the promotion of the fair play cause.
The Portuguese National Olympic Committee awarded Prof. Dr. Carlos Gonçalves, with the National Award of Ethics in Sports which is the biggest sports awarded on the field granted by the NOC of Portugal.
---